We can't stop until we achieve perfection. We pour our hearts into our work. Our secret? We love what we do. At Smartover Software, we go the extra mile to make our clients feel comfortable working with us and at the same time deliver what they need.
Thanks to their fantastic feedback, we've been highly recognized by The Manifest as Turkey's best recommended and reviewed UX agency for 2021!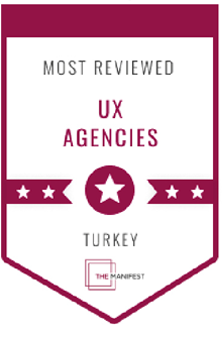 In 2019, our beloved founders established this company from the ground up to deliver consistent and masterful solutions to our clients. Since we began this journey, we experienced countless highs and lows, but that didn't stop us from growing further.

This 2021, we knew how important of a role we were to play for our clients' rebound. Those who struggled during the initial days of the pandemic, and those who want to scale despite adversities put their trust in the Smartover Software team. That immense honor fueled us even further.


The Manifest is an independent business news platform that's designed to serve as a B2B buyers guide. The site is known for its collection of step-by-step guides, market surveys, and agency listings.

In their first-ever recognition, our team made it on their list! This award represents the quality of our work, the success of our clients, and our position in the market. We couldn't be more honored!

"We are proud to be selected as one of Turkey's leading UX agencies by The Manifest!" — Smartover Software team

Here's to more amazing projects! We can't wait to see what else is in store for us!

Got any projects in mind? Reach out to the team and tell us more about it! The Smartover Software team is excited to hear from you.